Travelling-my experiences
Travelling in Japan can be a very exciting experience, but on the down side often very expensive. If you are visiting from another country, buy a rail pass as it will save you heaps. Unfortunately if you are working in Japan you will have to pay regular travel prices which vary greatly with the seasons.

To save on daily expenses, I recommend buying food at convenience stores and supermarkets and trying to get rooms with a fridge (people often stole food in shared fridges). I have stayed at a number of backpackers' and the quality really varies. Go for ones that aren't so focussed on foreigners if you can speak some Japanese, otherwise the Lonely Planet recommendations are ok. Just make sure you know where you are going before you arrive. Many of the maps I had weren't really accurate and didn't include the small back streets. I spent hours wandering around in Kyoto with my heavy pack before someone took pity on me and guided me. Have a phrase ready such as 'where is....' and point to your map and someone will often help you.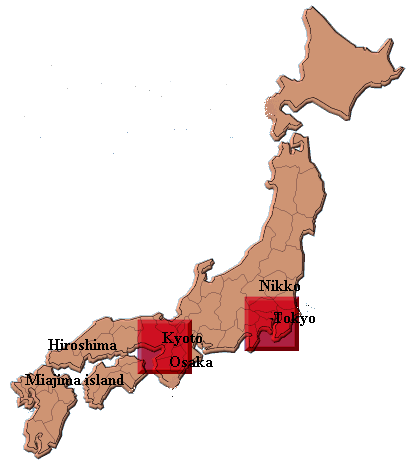 Nikko

Accessible in about two hours by train or car from Asakusa in Tokyo, this is a temple town with the beauty but less of the 'showiness' of Kyoto. The down side is there is very little in the way of explanations in English and as the Japanese is old style, the young Japanese friends I went with weren't able to read it. The second time I went I stayed at a youth hostel. The owners were very accommodating and provided supper and breakfast.
| | | |
| --- | --- | --- |
| | | |
| Part of a gateway, idol sitting on chair. | This old man, with his faithful cat are selling bird-call whistles. They were still in the same spot when I went back four years later. | Waterfall at the top of the mountains. An elevator has been dug in the side of the mountain so people can view it from the bottom. |
| | |
| --- | --- |
| | |
| Monk ringing bells | Inside the main shrine area |
Take a train from Hiroshima then a short ferry trip to the island. Lots of lovely gardens, deer, walking tracks and temples. Apparently there are monkeys, but I didn't see any.
| | |
| --- | --- |
| | |
| Outdoor lunch area. | The deer were wandering loose and came up to see what we were eating. |
| | |
| Waterfall- man made. | The tide came in by late afternoon. Previously we were able to walk out to the gate. |
| | |
| Main temple, Mijima Island | Bridge near the waterfall |
| | |
| Ferry station connecting to the island. The rail station is just across the road. Note the mini-gate. | The main entrance gate to the beach, Miajima. |
Kyoto
Of course the pinnacle of temple viewing. Easy to navigate, Kyoto is somewhere you can still see 'traditional' Japan. Although I didn't see any Geishas wandering around, it is possible to see many beautiful temples, castles and buy some reasonably priced souvenirs. There is a very good tourist information place near the main station where there are fluent English speaking volunteers who will help you arrange accommodation and provide you with free maps. Just don't arrive on sunday when many things are shut! In my experience the residents weren't very friendly and I was actually told to get out of my seat on a bus as I was a 'dirty foreigner'. I think most people are simply sick of the hordes of tourists descending. I saw quite a lot of bad behaviour from tourists while there so I can certainly sympathise.
| | |
| --- | --- |
| The Golden Temple | Zen garden |
| Inside the Imperial Palace | Garden in Kyoto |
| | |
| Some of the trees were shaped into lovely designs. Also note the roof shape and materials. | I loved this garden for its shaped trees and moss-covered stone statues. |
Osaka
A city with a lot of variation, but compared with Tokyo it's smaller, friendlier and cheaper. Plenty of touristy things to see, my favourites being the aquarium, big Ferris wheel and horror house. Food was much more reasonably priced than Tokyo and strangers were generally more willing to engage in conversation
Hiroshima
A city with so much history, I found it fascinating for its museums and shrines but on the whole a bit depressing with all the constant reminders of the A-Bomb. The museum dedicated to the bomb is very comprehensive and I spent easily a whole day there. Outside the museum are many famous shrines including Sadako and her 1000 cranes. The downside was that apart from the very comprehensive A-Bomb coverage, there was no information on Japan's part in the war or the reasons why the bomb was dropped. Apart from a brief history of Japan's part in conflicts in the pacific and China (Manchuria is conveniently overstepped) Japan's role as an agressor is simply ignored. I found the information interesting however presented in a very biased view.
The public transport is easy to use with trams being a major part of the network and the tourist information counter at the rail station very helpful.
| | |
| --- | --- |
| | |
| Shrine to Sadako and her 1000 cranes | Shrine to fallen students |
| | |
| A-Bomb dome | Shrine to unknown dead |
| | |
| Peace memorial and the eternal flame | View past the peace flame to the museum. |
| | |
| Back to Japan index | Back to main index |