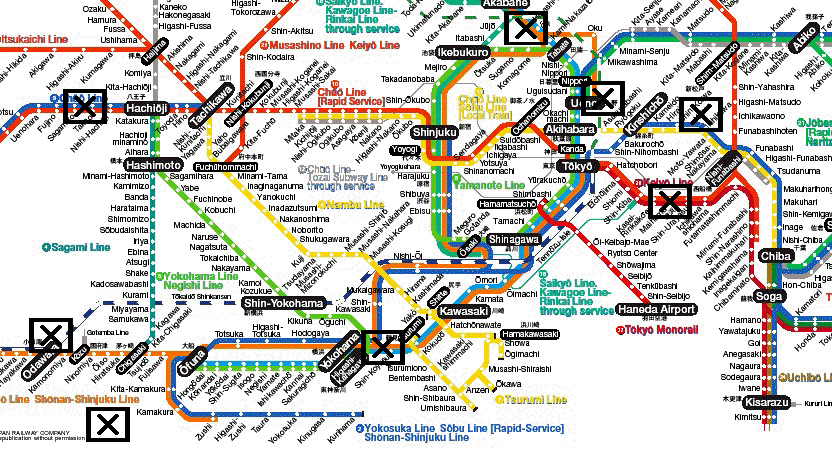 Near the station is Ueno park which is home to museums, a zoo and quite a large lake area. There are several kinds of paddle boats on the lake including swan boats. Also in the park are several temples which are most beautiful in spring/summer when the blossom is out and the flower shows are held.
| | |
| --- | --- |
| Nigel outside police box | Yukiko, Fiona, Nori holding Ayaka. The zoo has very cheap entry, reasonable food and spans two parks connected by a long walkway or monorail. |
| Steve, Gill, Fiona inside temple in Ueno park | Swan boats on lake in Ueno park |
Tokyo Disney Land
Although it's called Tokyo Disneyland, it is actually in Chiba prefecture, but easily accessible from Tokyo. One of my favourite places, I've been five times and it is still a dream world. The staff characters are very real and always polite and smiling. All the main characters in the parade are western actors because as a Japanese friend explained, for them the Cinderella image could never be anything but blue eyes and blonde hair. I think I would like to see a Japanese version!

Kazuko, Nigel, Yoshi,
Splash mountain, Tokyo Disney Land

Disney castle
Fiona, Yoshi, Nigel

Fiona, Disneyland
| | |
| --- | --- |
| Yoshi & Nigel & Mickey Mouse burgers | Halloween pumkins, Fiona & Nigel |
Tokyo Disney Sea
I've only been here once, and while it was beautiful, would not rush back. It has a very different atmosphere to Disney Land, much more open space, fewer shops and a more adult focus. The rides are fewer and far between but there are stage shows that go for up forty minutes. There were no characters wandering around when I went and few kids. The food is much more adult focussed and most venues are cafe-like.
| | |
| --- | --- |
| Inside the entrance- Fiona and 'Ariele' | Fiona and Camel, Aladin's cave |
| The fort with volcano behind. Inside the volcano is the ride 'Journey to the centre of the earth'. | The Mediterranean coast- mostly cafes |
| The Arabian Coast | Gill outside Ariele's playground |
Next to Maihama station (Disney land) is Kasarinkaikoen station. There is a large park there with cherry blossoms and a great aquarium.
Not far to the west of Tokyo and easy to get to by subway from Ueno station. Sensoji temple is the main attraction along with the shopping street leading up to it, a good place for cheap souvenirs. The Asahi Beer Bubble is visible from outside the station.
| | |
| --- | --- |
| Feeding the pigeons at Sensoji temple, Fiona & Cameron | The Asahi beer bubble |
| The shopping street with Sensoji temple in the background | Budda at Sensoji, Cam, Joel, Fiona |
About thirty minutes from Shinjuku station, a sea port that includes Tokyo's own China town and the foreigners' cemetery.
| | | |
| --- | --- | --- |
| This ship was used in WW2 and is permanently moored here. | Fiona outside entrance to China Town | Big fruit tree near sea at Yokohama |
45 minutes by express train from Shinjuku station. A nice, if commercial mountain, a cable car can take you most of the way up if you can't be bothered walking. Vending machines available at all stages!
| | | |
| --- | --- | --- |
| Cable car track up Mt Takao | Fiona washing five yen coins, Mt Takao | Shrine at Mt Takao |
Actually about an hour and half north of where I marked the map, in Saitama prefecture. Famous for cherry blossoms and Autumn leaves. There is a zoo on top of the mountain closest to Chichibu station and boat rides on the river.
| | |
| --- | --- |
| Julia and Fiona near river at Chichibu | Autumn leaves in Chichibu |
| Fiona & Julia, station on the way to Chichibu- note no people! | Family cemetery outside house, cow sheds in background |
| | |
| --- | --- |
| Man pushing my boat down river near Chichibu | Friend's house I stayed at near Chichibu |